If you have information about any of the crimes below or other crimes please call Crime Stoppers at 1-877-283-8436, 1-877-CUF-THEM, submit a web tip or submit a tip using the P3 Tips app on your mobile device. You will remain anonymous and could be eligible for a reward up to $1000.
Theft of Building Materials
December 04, 2020
Date of Crime:
Friday, December 4, 2020
Location:

4320 Industrial Court
Town of Sheboygan

Type of Crime:
Theft
On Thursday, January 7th, 2021, the Sheboygan County Sheriff's Department investigated a theft at a new construction site for Edgewater Plumbing located at 4320 Industrial Court in the Town of Sheboygan. 120 rolls of roofing insulation were noticed missing on December 4th, 2020. The insulation rolls were described as being unfaced in two foot widths and stored in two enclosed semi trailers parked on the street. The last time the insulation was observed in the trailers was November 24th, 2020.
---
Burglary - Hair Graphics
October 10, 2020
Date of Crime:
Night of 10/10/2020 to early morning 10/11/2020
Location:

412 Broadway Street
City of Sheboygan Falls

Type of Crime:
Burglary
On Sunday, October 11, 2020, the Sheboygan Falls Police Department responded to 412 Broadway Street (Hair Graphics) for a reported burglary. Upon investigation, it was determined forced entry was gained, during the evening or early morning hours, by removing a screen and prying open a window. A cell phone along with $250 of US currency was stolen.
---
Damage to Property - Vandalism
September 17, 2020
Date of Crime:
September 17, 2020
Location:

1700 & 1800 Block of N. 8th and N. 9th Street
City of Sheboygan

Type of Crime:
Vandalism
During the evening hours of September 17th, 2020 criminal damage to property had occurred and was reported by five area residences. The vandalism, which consisted of black spray-painted graffiti was found on driveways, buildings and vehicles in the area of 1700 and 1800 block of N. 8th and N. 9th Street in the City of Sheboygan.
The Sheboygan Police Department is asking for your assistance to identify the suspect(s).
---
COLD CASE Homicide - Rhys Pocan
August 10, 1989
On Thursday, August 10th, 1989, Rhys Pocan, a 35-year-old, Native American woman was abducted while walking along National Avenue in the City of Milwaukee around midnight. Rhys was murdered and dismembered. Her head and hands were later located by hunters in Vernon Marsh, which is a public hunting ground, located in Waukesha County. Rhys's torso was found in Nichol's Creek, which is a public hunting ground, located in Sheboygan County.
As in all situations of this nature, do not confront a suspect.

---
COLD CASE: Double Homicide
November 30, 1988
Date of Crime:
November 30, 1988
Location:

Eddie's Jalopy Jungle
2215 Mill Rd
Town of Sheboygan

Type of Crime:
Double Homicide

On November 30th, 1988, 75-year-old Edward and 73-year-old Frances Cizauskas were found murdered at their Town of Sheboygan property. The couple ran a scrap metal business called Eddie's Jalopy Jungle which was on the same property as their residence, located at 2215 Mill Rd.
Authorities feel confident that the subjects responsible for these murders have talked to people who have information and have either not been asked or were reluctant previously to provide that information. The Sheriff;s Department is asking for those people to do the right thing and come forward with this information by contacting Crime Stoppers.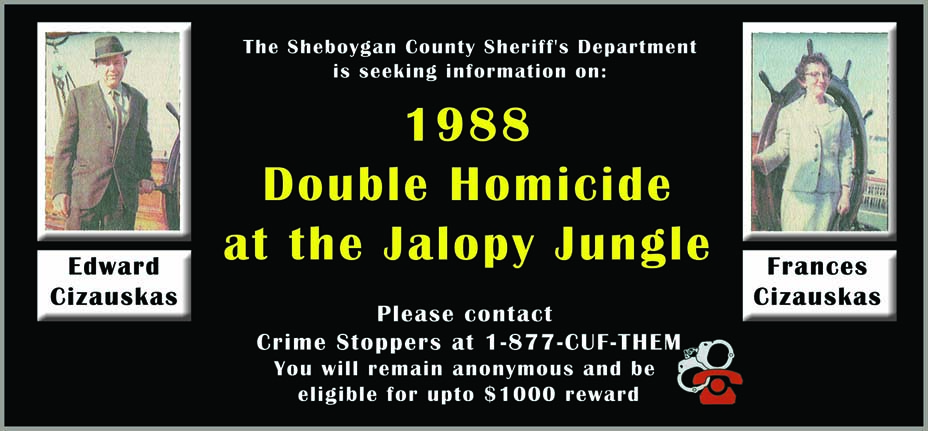 ---
| | | |
| --- | --- | --- |
| Page 2 of 2 | 15 Records | Prev | Next |